short and long-term storage available
Rockbrune Bros Movers provides temporary, long-term and indefinite storage options for your furniture and belongings. These include warehousing, trailer storage, mini "self" storage units, container storage and outdoor storage. Storage options vary by location.
Unsure of what storage strategy is best for you? Contact our relocation consultants for expert information on your unique storage needs.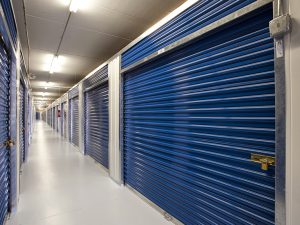 Rockbrune Bros Movers has three indoor storage facilities, located in Ajax, Barrie, and Oshawa. All our facilities are climate controlled and secure. Your belongings will be inventoried, and pad wrapped while in our care.
In addition to our indoor storage facilities, we offer outdoor storage for cars, boats, trailers and more. At our Ajax location, we also offer "mini" self-storage units, for flexible access to your belongings.
All options are designed with the security and safety of your items in mind.
Need storage during your move? Our trailer storage solutions ensure less handling of your belongings. During the moving process your items are:
Pad wrapped and loaded onto the trailer at your current home.
Stored for a maximum of 60 days.
Delivered to your new home.
Moved into the desired room.
And all disassembled items are reassembled, including beds.
Trailer storage ensures that your items are only handled twice, once when they are loaded and once when they are unloaded. This way your items can be stored at our facilities mid-move, reducing wear and tear on them.
Our Barrie location offers a unique storage solution. Our 20" refurbished steel storage containers are available for fully pad wrapped, load and store options, also well as for to Do-It-Yourself moving and storage solutions. These units can be stored in:
Your driveway.
Our secured compound.
These storage solution units are ideal whether your belongings need storage for a few days while moving, a short term while you renovate or do work around the house or an extended period.